NOCCO welcomes new ambassador Laura Micetich
We are beyond proud to welcome our latest ambassador to Team NOCCO – strength athlete Laura Micetich! Also known as The Iron Giantess on Instagram, Laura is the 6′ woman from Los Angeles who's been trying out pretty much everything within the fitness scene; bodybuilding, functional fitness, parkour and calisthenics – before she settled within the fitness and coaching scene. On a daily basis, she shares inspiration and a great deal of motivation through her Instagram, and is all for "loving the process and to love yourself" along the way. We had the chance to ask Laura a few questions about her path in life, struggles and motivation – and the upcoming Olympia Fitness & Performance Weekend in Las Vegas where she will be together with NOCCO.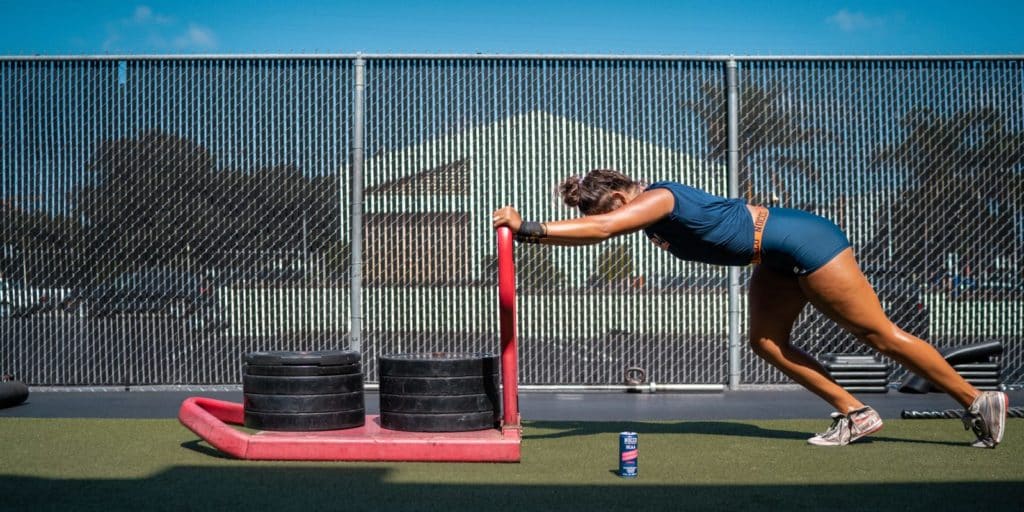 Welcome to team NOCCO! Who's Laura?
– Wow! Right to the hard stuff. I think Laura can pretty much be summed up as a 20-something woman striving to find things that push her outside her comfort zone and then conquer – in fitness, mindset, travel, and adventure. And a giant – can't forget the GIANT.
What's your training background?
– I started training as a way to get healthy and fell in love with powerlifting as a strength sport. Soon, I found bodybuilding and was lucky enough to train with and under some of the greatest in the industry. Now, as a coach and an athlete, I'm constantly finding new challenging areas of training – like functional fitness, parkour, calisthenics, Olympic lifting – and working to hone and perfect those skills.
You've made an incredible journey – what has had the most impact on you so far?
– Realizing that you can't fail at this. I've learned that if you wake up every morning and start again, there are very few things you can truly fail at. Life is a learning sport and I'm always game to play.
What's your greatest strength?
– Being 6' and pretty giant has always given me an edge as a strength athlete, but I think my biggest strength is truly my excitement for a challenge. I love to learn, whether it's in the weight room, the classroom, on the field, or in business, so I've learned that "can't" really just means "can't yet" and that's gotten me pretty far.
You're such an inspiration to others, and share a lot of motivation on your Instagram. Where do you find your inspiration?
– My parents give me endless inspiration. I've never met smarter, kinder, or more generous humans. I'm also constantly inspired by my friends and mentors. I'm a pack person. I surround myself with amazing people – those with amazing talent, amazing hearts, amazing world views – and feed off their knowledge, inspiration, and passion. They make me invincible.
What exercise is your go-to?
– I'm a sucker for a sled push or a heavy squat, but recently, Olympic lifts like power cleans have become my favorite! I love a challenge and after years of training as a bodybuilder, power movements are a fun new challenge.
What do you like to do when you're not hitting the gym?
– I'm lucky to live in LA. I'm all about the sun and the water, so I spend a lot of time at the beach or in the ocean. If I'm not here, I'm on a plane to a new adventure.
What's something most people don't know about you?
– Before I turned to fitness full time, I taught middle school and absolutely loved it! I'm still in touch with many of my students almost every day. If I could do both at the same time, I'd be on cloud 9.
You're going to Olympia Fitness & Performance Expo together with NOCCO this weekend. What's your favorite part of going to the Olympia?
– Experiencing that many people in one place that are so genuinely in love with fitness is once in a lifetime, but I also love a little fun, so I'll never turn down a weekend in Vegas with all my friends in the fitness community!
And last but not least – which one is your favorite NOCCO flavor and when do you drink it?
– I love coconut and beachy flavors, so Caribbean is my first choice for caffeine before a workout, but I'll sip cans of the Apple BCAAs all day!
Check Laura out on her Instagram!
WELCOME TO TEAM NOCCO, LAURA!